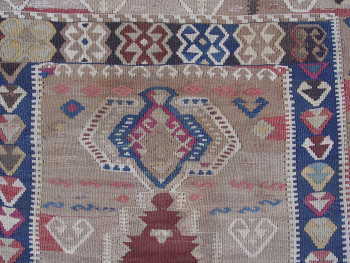 With powerful geometric images, kilims (or "kelims") have been woven for many generations by Turkish, Kurdish, Yörük and Turkmen people, both settled & nomadic, throughout Anatolia.
Particularly striking are the rich, burnished colours one finds in the finer examples, due to their natural dyes and finely-spun wool.

We have a remarkable selection of high-quality 19th and early-20th century kilims in stock, all in superb condition.

The name "kilim" is also given to various types of brocaded, embroidered and other flat-woven rugs and bags, some of which can be viewed on this site.