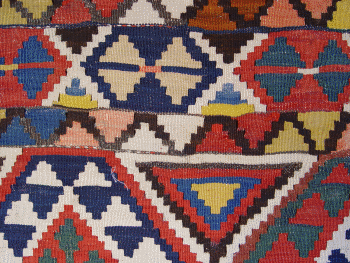 These kilims (or kelims) were woven by villagers and tribal nomads of the Caucasus, an area which corresponds to present-day Azerbaijan, Armenia, Georgia and Dagestan (Russian Federation).
Very often these kilims are large, with bright colours and vivid patterns. Motifs consist of adjacent large geometric medallions, often with rows of smaller medallions. As with the finer Anatolian Kilims, both wool and dyes are of superb quality.
We have a number of excellent pieces in stock.