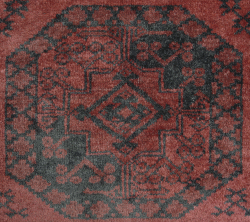 We stock various types of Afghan rugs and carpets, new, old and antique, with many fine-quality recently-woven pieces.

Traditional Afghan rugs, with geometric designs and Turkoman guls, usually in shades of red, are well known. We have several fine examples of this type, new and old.

In more recent times, carpet production in the region has embraced a much wider spectrum of design and colour, using old Ziegler designs in pale & pastel shades. We have various pieces in stock (rug and runner sizes), made using natural dyes and with "garous" designs, a variation on the Ziegler style.
We also have a selection of the well-known Khal / Khan Mohammadis; these rugs and carpets represent some of today's best Afghan weaving. Khal Mohammad himself (now in his 80s) is an Ersari Turkoman from Northern Afghanistan. A master dyer, he has developed a very identifiable type of Afghan carpet using good-quality wool and natural dyes.

For tribal pieces (Balouchi and Turkoman) relating to Afghanistan, please navigate to the relevant page on our website using the menu on the left.