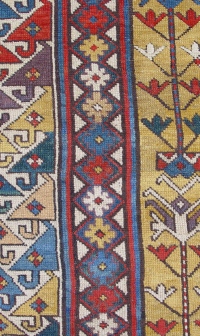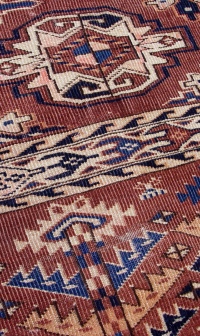 This extensive selection from Myles Quirke's personal hoard contains some exceptional pieces, dating from the early 18th century onwards. A wide range of different types of rugs, kilims, covers, and bag faces are represented.
There are Turkish prayer rugs from Melas and Konya dating back to 1800; fine mid - late 19th century Persian rugs from Kashan and Bidjar; 19th century Persian Afshar and Qashq'ai tribal rugs; various Turkoman rugs, bags, faces and covers, dating from the early 19th century onwards; Shirvan, Kuba and Kazak rugs from the Caucusus, dating from the late 18th century; an extensive collection of Belouch rugs, prayer rugs, and rare larger carpets, mainly from the late 19th / early 20th century; and several superb Anatolian kilims in perfect condition, dating from 1850 onwards.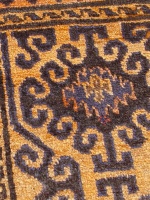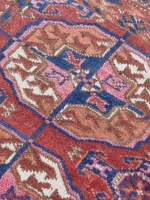 The prices on the items listed are all set at reasonable levels, and are negotiable, as dictated by the current market climate! So, if you have an interest in anything you see on this website, please contact us about it...