The term "bag face" refers to a wide range of small, decorative tribal-weavings, usually serving some practical purpose (saddle-bags, cushions & pillows, covers, and storage-sacks for example). Originally woven only for personal use, such pieces show a remarkable variety of pattern and style, with their small size further enabling the weavers to experiment.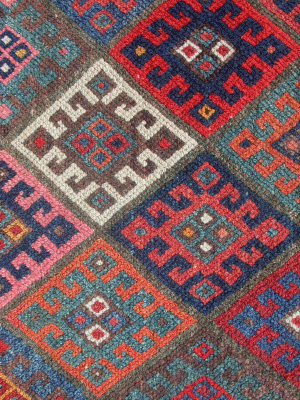 Different tribal groups are noted for particular types of weaving, or the making of certain items: the Shahsavan (tribes of Turkish-speaking people in northwestern Iran) are renowned for flatwoven soumak weaving; Yörük and Turkoman nomads of Anatolia for brocading; and central Asian Turkoman tribes for their many different types of bags.
For non-experts, saddlebags are probably the most widely-recognized type of tribal weaving; known as "khorjin" or "heybe", they come in various sizes - smaller saddlebags used on donkeys, larger ones on horses and camels. Numerous different types of weaving techniques can be found in saddlebags: soumak, brocading, knotted pile, tapestry, and weft-substitution (the practice of substituting different coloured wefts in plain weaves).
The backs of older or worn bags were often removed, and the highly decorated front panel used as a wall-hanging - some of the finer ones becoming valuable family treasures, much sought after by collectors.

The term "mafrash" appears in different central-Asian languages to describe various types of storage bags. Large box-shaped bags (primarily used to hold bedding), woven by Shahsavan tribes in northwestern Iran and Azerbaijan, are known as "mafrash". The term is also used by Turkoman tribes to describe the smallest type of storage bags. Pillow or cushion covers have been woven by a wide number of tribal groups; most often made using a knotted pile, but also with brocading and weft-substitution. A well known type is the Turkish yastik.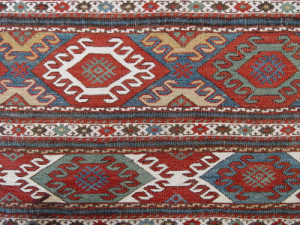 The number of these decorative weavings being produced began to diminish in the early 20th century, as formerly nomadic people settled in villages and turned their attentions to the weaving of rugs and carpets instead.
Please read the introductory section on the
"Turkoman" page
of this website to find more details about the various Turkoman decorative weavings.