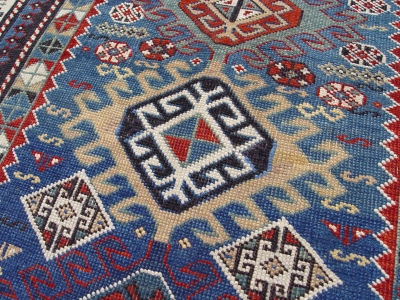 The geographic term "Caucasus" refers to an area including part of southern Russia, Georgia, Armenia and Azerbaijan, bounded by the Caspian Sea to the east and the Black Sea to the west, with Iran and Turkey to the south. The region south of the Caucasus mountain range, known as the Transcaucasus, is the main rug-producing area.
The population of this region is ethnically diverse, with carpets and rugs having been woven by Azeris, Kurds and Armenians, most often in villages.
The oldest Caucasian rugs are known as "Dragon carpets", woven in the 17th century (probably in Armenia). They depict stylized dragons, as well as birds, phoenixes and lions. Many of these carpets were found in Turkish mosques.

A particular style of rug-making began in the early 18th century and continued for the next 200 years. These rugs are generally brightly coloured with bold geometric designs, vegetable dyes, and have a wool pile.

With the Soviet occupation of the Caucasus in the 1920s, and the attempt at "collectivization" of rug-weaving during this decade (& throughout the 1930s), followed by the catastrophic effect of World War 2 on the region, the quality of rug making deteriorated sharply and has never really recovered.

Our stock consists of pieces dating from the early 19th century to the first half of the 20th century.