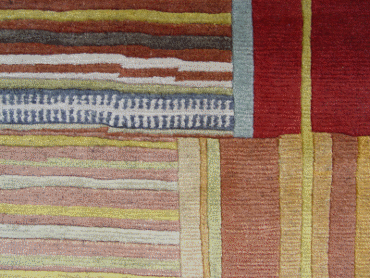 We stock a varied range of modern / contemporary designs - including hand-knotted Afghan and Nepalese rugs, hand-tufted Indian rugs, and the full range of machine loomed Belgian rugs by De Poortere Deco.
The sizes we hold in stock are 6'7" x 4'6" (2.00m x 1.40m), 8'0" x 5'6" (2.40m x 1.70m) and 9'9" x 6'6" (3.00m x 2.00m). We also have some larger carpets up to 12'0" x 9'0" (3.66m x 2.80m) in stock, with other sizes available to order.
The De Poortere Deco Range of rugs is made in Belgium by Louis de Poortere. A combination of cotton chenille and either wool or high-gloss polyester, all are made using the Jacquard weaving process, with the finishing stitching worked by hand. The current ranges are the Vintage Collection, the Cameo Collection, the Fading World Collection, the Mosaiq Collection, the Silver Lining Collection, the Mad Men Collection and the Bobohemian Collection.